South Carolina Boat Insurance: Everything You Need to Know
January 14, 2021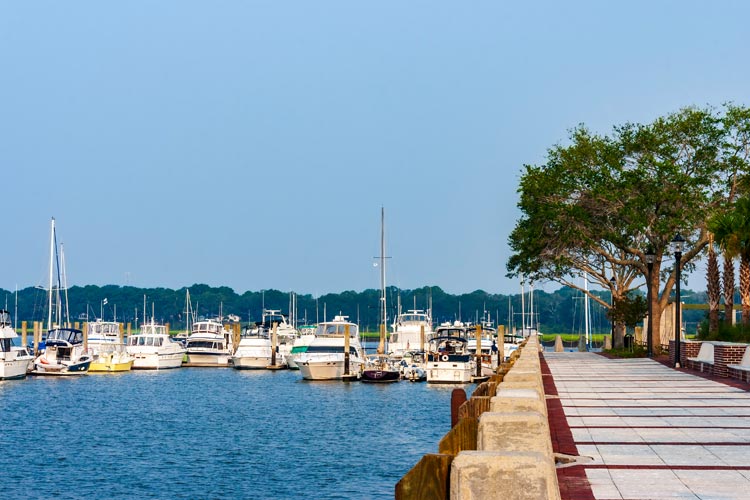 With 2,876 miles of shoreline and 19 lakes, it's no surprise that South Carolina is a popular place for boating. Whether you're cruising Myrtle Beach or boating from Lake Marion to Charlestown, you'll want to make sure you have a good boat insurance policy in case your boat breaks down or is damaged.
Independent insurance agents in South Carolina know the ins and outs of boat insurance and what type of coverage you need, based on the type of boat you own and how frequently you use it. They'll help you get set up with the best boat insurance policy available so all you have to worry about is the weather on the day you want to hit the water.
What Does Boat Insurance Cover in South Carolina?
When you think about the possible damage that can be caused by a boat, there's physical damage and liability, which is an injury to another person or piece of property. Boat insurance, also known as watercraft insurance, provides every variety of boat, from a pontoons or yachts to a houseboats or personal watercraft, with coverage in the event of either of these types of damage. Some specific events it will cover include:
Towing or other assistance if your boat breaks down
Replacement of personal property that may be damaged or lost
Medical bills if you or your passengers are injured in an accident
Damage to your boat that occurs when it's not on the water
Fuel spills
Uninsured or underinsured boat owners
Physical damage from weather-related perils such as wind, rain, hail, lightning and fire
Damage caused by theft or vandalism
Damage caused by collisions with docks or other floating objects
What Doesn't Boat Insurance Cover in SC?
Like with any insurance policy, there are a few events that will be excluded from your boat insurance policy. Every policy is different, but typically these exclusions exist:
General wear and tear: Your boat insurance will not cover any natural wear and tear that your boat sustains or wear and tear that is the result of poor maintenance of your boat.
Insects, animals, and mold infestations: Most of the time these types of damage are excluded from boat insurance policies.
Damage from marine life: If a shark takes a bite out of your boat, it will most likely not be covered by your insurance policy.
Specific accessories: Some boat equipment is covered, like fishing equipment on a fishing boat, but not all accessories are covered. Things like life jackets and navigation systems won't be covered unless specifically stated in your policy.
Uncovered drivers: Similar to car insurance, boat insurance is based on specific people driving the boat. If your buddy is taking the wheel and crashes your boat, it may not be covered.
Navigational area: Some companies only allow their insurance to cover up to a certain number of miles from shorelines or other geographic areas. It's important to know any navigational limits on your boat insurance policy.
Is Boat Insurance Mandatory in South Carolina?
South Carolina does not require that you carry boat insurance in order to operate a boat. However, it's important coverage to look into. In South Carolina alone, there are more than 100 boating accidents every year. Even the smallest accident can result in dangerous consequences and expensive boat repair costs or injury-related medical bills.
Top 5 reasons for boat accidents in the United States
| Reason for accidents | Number of accidents |
| --- | --- |
| Operator inattention | 546 |
| Improper lookout | 506 |
| Operator inexperience | 458 |
| Excessive speed | 358 |
| Alcohol use | 282 |
If you have a good boat insurance policy you will only have to pay your deductible and the insurance policy will cover the rest. Without insurance you're in charge of all expenses out of pocket.
How Much Is Boat Insurance in South Carolina?
The good news is that boat insurance in South Carolina can cost as little as one dollar a day, according to South Carolina insurance brokers. Of course, this will vary with the type of boat you own. A yacht will cost more to insure than a personal watercraft. Other factors that insurance companies will take into consideration include the type of boat, its length, and its expected use. In South Carolina, boats that are used in salt water will require different coverage than boats that will only be used on lakes. In general, most boats cost between $200 and $500 to insure.
How to Buy Boat Insurance in South Carolina
Most insurance companies offer a boat insurance policy in South Carolina, and some insurance companies specialize in boat insurance. By working with an independent agent, you can get assistance with shopping different companies and policies to make sure you're buying the best boat insurance available to you. Reach out to an independent agent and provide them with the details of your boat and they can get you set up with a good policy.
Does Boat Insurance in South Carolina Include Hitting a Rock?
When you build your boat insurance policy, you'll have the option to add a variety of coverages that provide the different protections we've mentioned above. These coverage options include:
Liability coverage
Uninsured and underinsured coverage
Comprehensive collision insurance
Towing coverage
Salvage coverage
Personal items/boat contents coverage
If you purchase comprehensive coverage in your policy, then you will be covered if you run into a rock. If you exclude comprehensive coverage from your package, then you'll have to pay for the damage out of pocket if you run into a rock or other similar items.
Do I Need Insurance on My Boat Trailer in South Carolina?
While it is not required to have insurance on your boat trailer, it is a good idea. It's possible that at some point your trailer will cause damage to someone or something else or that it will sustain damage. There's also the rare possibility that your trailer will be damaged by a natural disaster such as a fire or a hurricane. When you're building your boat insurance policy, you can ask for extensions and coverage that include your trailer.
Why Use an Independent Insurance Agent?
Boat insurance comes in a variety of shapes and sizes and will vary for every boat owner. Seeing as it is not required by law in South Carolina, it's up to the owner to be properly covered and stay safe while on the water. South Carolina insurance agents are experts in all things insurance and can help you shop for an affordable and reliable boat insurance policy. They'll look at the type of boat you own and how you use it and make recommendations of the best coverage options.
https://scinsbrokers.com/boat-insurance/
https://www.bergerlawsc.com/library/facts-about-south-carolina-boating-insurance-policies.cfm
https://www.uscgboating.org/library/accident-statistics/Recreational-Boating-Statistics-2019.pdf
©

2023

, Consumer Agent Portal, LLC. All rights reserved.